Curriculum Design and Relevant Practices
The layout of our curriculum contains an in-depth mastery of professional knowledge, competencies, and skills through the training in the aspects of professional English, cross-cultural business communication, management, and other related business practices as well as focuses on cultivating students to communicate effectively in English, apply practical knowledge, and develop innovation capability. The program courses can help students build, broaden, and strengthen personal international competitiveness in the business environment.
The program will arrange practitioner lectures, company visits/internships, promote the corporate mentoring systems, and organize "The Master Series in International Trade"; in addition, we will regularly invite renowned visiting masters at home and abroad to deliver speeches and share experiences to nurture students with the ability to apply theories and practical knowledge in the international business environment.
Course Details
Total Credits for Graduation: 30 Credits
Mandatory Courses: 6 Credits
Master Thesis: 3 Credits
Module 1-International Business Communication: 12 Credits
Module 2-International Business and Management: 9 Credits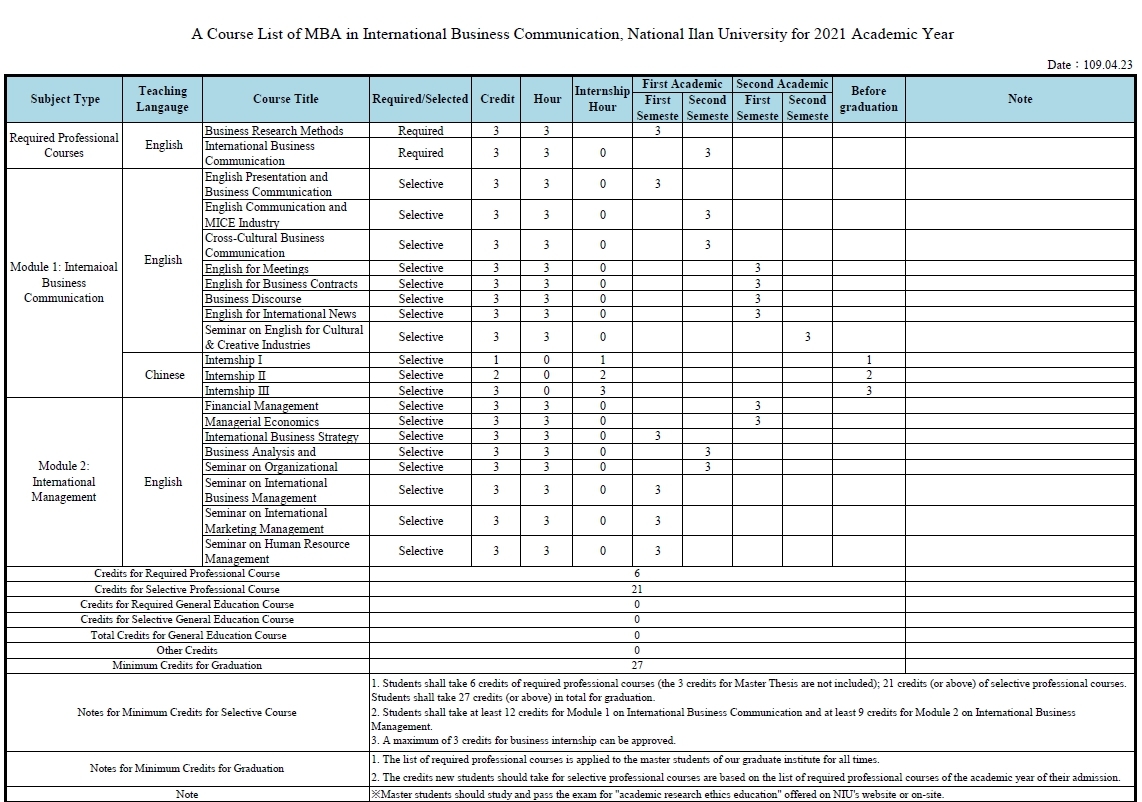 Course List for MBA In International Business Communication (2021 Academic Year)
Required Professional Courses
Teaching Langauge: English
| English Course Name | Required/Selected | Credit | Hour | Internship Hour | First Academic Year(First Semester/Second Semester) | Second Academic Year(First Semester/Second Semester) | Before graduation | Note |
| --- | --- | --- | --- | --- | --- | --- | --- | --- |
| Business Research Methods | Required | 3 | 3 | | 3/- | -/- | | |
| International Business Communication | Required | 3 | 3 | 0 | -/3 | -/- | | |
Module 1-Internatioal Business Communication Course
Teaching Langauge: English
| English Course Name | Required/Selected | Credit | Hour | Internship Hour | First Academic Year(FS/SS) | Second Academic Year(FS/SS) | Before graduation | Not |
| --- | --- | --- | --- | --- | --- | --- | --- | --- |
| English Presentation and Business Communication | Selective | 3 | 3 | 0 | 3/- | -/- | | |
| English Communication and MICE Industry | Selective | 3 | 3 | 0 | -/3 | | | |
| Cross-Cultural Business Communication | Selective | 3 | 3 | 0 | 3/- | | | |
| English for Meetings | Selective | 3 | 3 | 0 | | 3/- | | |
| English for Business Contracts | Selective | 3 | 3 | 0 | | 3/- | | |
| Business Discourse | Selective | 3 | 3 | 0 | | 3/- | | |
| English for International News | Selective | 3 | 3 | 0 | | 3/- | | |
| Seminar on English for Cultural & Creative Industries | Selective | 3 | 3 | 0 | | -/3 | | |
Teaching Langauge: Chinese
| English Course Name | Required/Selected | Credit | Hour | Internship Hour | First Academic Year(FS/SS) | Second Academic Year(FS/SS) | Before graduation | Note |
| --- | --- | --- | --- | --- | --- | --- | --- | --- |
| Internship I | Selective | 1 | 0 | 1 | | | 1 | |
| Internship II | Selective | 2 | 0 | 2 | | | 2 | |
| Internship III | Selective | 3 | 0 | 3 | | | 3 | |
Module 2-International Management Course
Teaching Langauge: English
| English Course Name | Required/Selected | Credit | Hour | Internship Hour | First Academic Year(FS/SS) | Second Academic Year(FS/SS) | Before graduation | Note |
| --- | --- | --- | --- | --- | --- | --- | --- | --- |
| Financial Management | Selective | 3 | 3 | 0 | | 3/- | | |
| Managerial Economics | Selective | 3 | 3 | 0 | | 3/- | | |
| International Business Strategy | Selective | 3 | 3 | 0 | 3/- | | | |
| Business Analysis and Diagnosis | Selective | 3 | 3 | 0 | -/3 | | | |
| Seminar on Organizational Behavior | Selective | 3 | 3 | 0 | -/3 | | | |
| Seminar on International Business Management | Selective | 3 | 3 | 0 | 3/- | | | |
| Seminar on International Marketing Management | Selective | 3 | 3 | 0 | 3/- | | | |
| Seminar on Human Resource Management | Selective | 3 | 3 | 0 | 3/- | | | |